How Cataract Surgery Can Improve Your Golf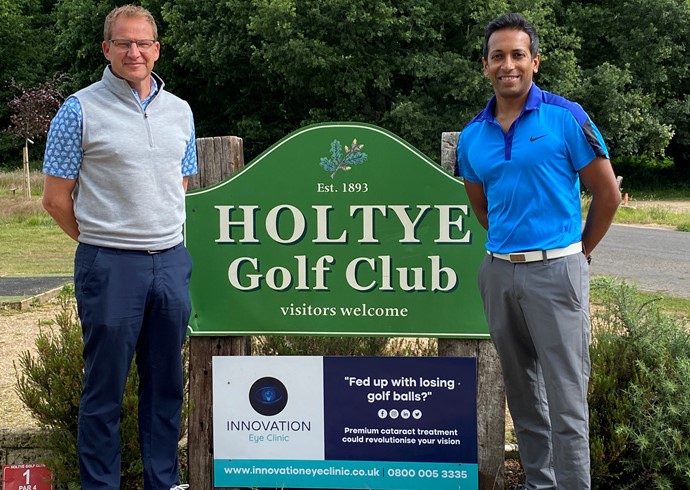 As a keen golfer, I am acutely aware of how important good vision and depth perception are when playing this fantastic, albeit often frustrating sport. I see many patients who are keen golfers and one thing that I have noticed is how significantly cataract surgery has led to both an improvement in their golf and also their enjoyment of the game.
What is a cataract?
A cataract is when the lens of the eye becomes cloudy. As a result, less light can pass through to the back of the eye. It is more common as you get older, but can also be caused by trauma, UV light, glaucoma, diabetes, smoking, steroid eye drops, and previous eye surgery.
How do I know if I have a cataract?
Cataracts can present with a whole array of symptoms, with the most common ones being blurred or faded vision, glare, and halos. It can be picked up by having your eyes examined by an ophthalmologist or an optician.
How do cataracts affect golf?
The most obvious way that cataracts can affect golf is by reducing your distance vision and therefore commonly losing golf balls after teeing off. Cataracts can also affect depth perception and therefore your ability to play some of the more delicate strokes, such as chipping in and around the green or out of bunkers, can be affected.

As a fair-weather player myself, I often play golf in more pleasant and sunny conditions and the glare from the sun can certainly affect your vision during a round of golf. A decrease in vision with cataracts is more pronounced in dim light conditions so you may notice that your ability to find your golf ball is reduced with early tee-offs or late finishes in dawn or dusk type conditions. The use of brightly coloured balls to improve contrast against the fairways will obviously help to an extent with finding your golf ball.

The use of spectacles can be obstructive when playing any sport, and golf is no exception. The ability to be spectacle free is a big motivation behind many patients having premium cataract surgery.
How are cataracts treated?
Cataract surgery is a quick and painless surgery that is performed under local anaesthetic. The cataract is broken down with ultrasound or laser energy and the operation lasts less than 20 minutes. The visual recovery after modern cataract surgery is very quick indeed and you can be back on the golf course within a matter of days. There are also many different lens options available, including premium lenses which can, as well as improving the distance vision, also improve your intermediate vision, which is useful when walking on uneven surfaces around the golf course. There are also lenses that can give you near vision and therefore the chance to be spectacle independent and not need to put on your glasses when writing down your golf score cards.
Message to golfers with cataracts
I have had the pleasure of treating many patients who are avid golfers with cataract or lens replacement surgeries and without exception, I am delighted to hear post-operatively that this has led to an improvement in their game but also, more importantly, their enjoyment of the game.
These improvements in vision are of course not just limited to golf and many of my patients who are keen tennis players, cyclists, avid walkers or just general outdoor enthusiasts have enjoyed a huge benefit in their quality of life from premium cataract surgery.
Innovation Eye Clinic and the sporting community
As a keen sports enthusiast, I am proud that Innovation Eye Clinic sponsors many of the local sporting clubs around East Grinstead and surrounding areas including:
Find out more: Holtye Golf Club
Find out more: East Grinstead Rugby Football Club
Find out more: West Hoathly Bowling Club
Find out more: East Grinstead Sports Club
Book your consultation
If you found this information useful, please feel free to share it with friends and family. If you wish to have a consultation regarding premium cataract surgery, please do contact us on 0800 005 3335 or info@innovationeyeclinic.co.uk